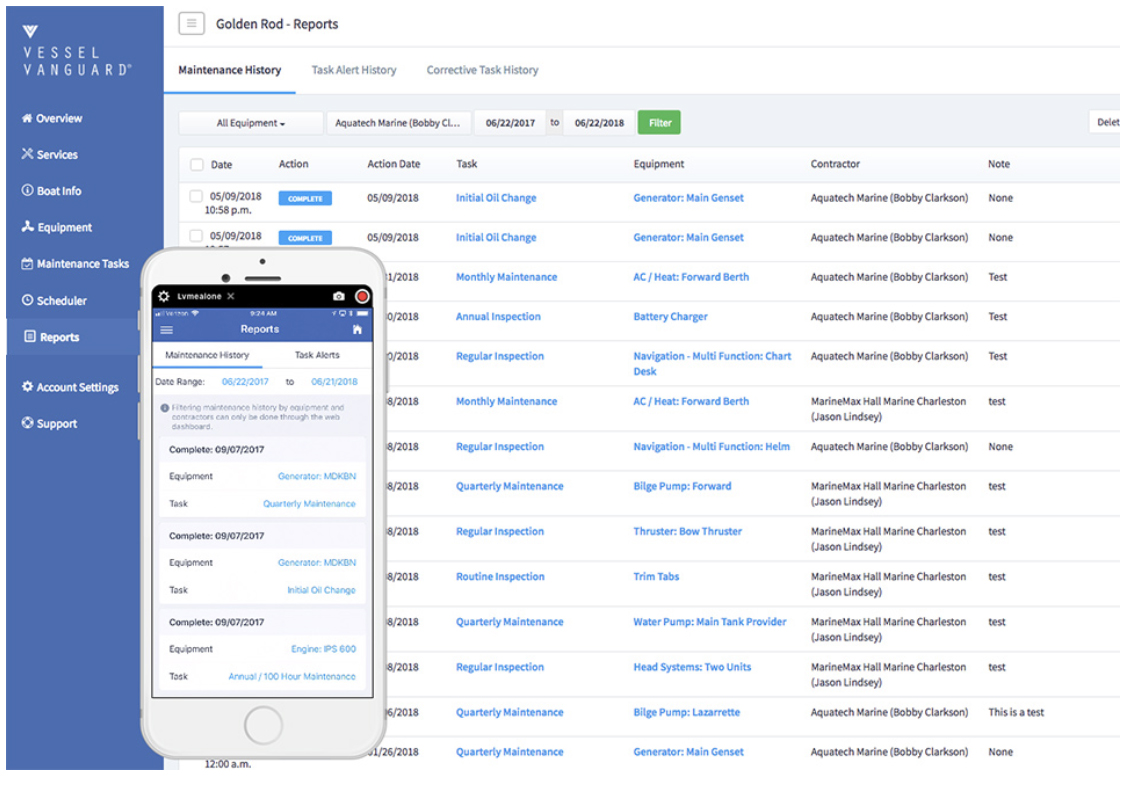 At the core of the Vessel Vanguard Platform is our proprietary marine equipment library, now with close to 100,000 discrete equipment models including manuals and warranty terms. Operating manuals are analyzed and recommended maintenance and inspection schedules are programmed to deliver task descriptions and details on time into your boat profile.
As interval dates approach, a Task Alert Notice is delivered to the management team and service providers. Intervals and details may be modified to accurately reflect practical needs. With the click of a mouse, tasks can be assigned to pre-determined service providers or internal resources. When a task is marked complete, the boat profile automatically re-calibrates to the next programmed interval and the process repeats itself.
The mobile app for smart phone or tablet is available in iOS and Android versions. Profile functionality and data is available offline, and actions taken persist in memory, and synch back to the server when connectivity is regained.
Designed to meet the on-the-go needs of operators, service providers and managers, our cloud-based service lets you view, manage, and share information about your boat's maintenance online when and where you need it. Receive service notices to your mobile phone, look up a boat manual on your tablet device and upload service records from your laptop. Whether you're at the office, at a coffee shop or at the helm, you can easily interface with your digital boat profile and fleet dashboard from anywhere.
Delegate with Control and Confidence.
Because service providers and auxiliary users are informed of task requirements in real-time VesselVanguard facilitates transparent accountability throughout the ecosystem of each boat and fleet.
We help you manage your boat's maintenance from both mobile and desktop applications, whether online or offline.

You can easily assign a preferred contractor to receive copies of specific task alerts; allow your shipyard to oversee the maintenance and inspection of entire systems; or even give your trusted service agent complete access to view and manage all the various needs for the boat. Designated parties get access to only the systems you assign to them, with the ability to upload completed work orders and documents which then become part of the digital ship's log.